Send your own shipments to Printfection's fulfillment center! Customer-sourced inventory enables you to keep Printfection at the center of your swag management strategy while providing additional flexibility to:
Get an existing stash of promotional items out of your office
Return leftover or reusable promotional items back into your inventory after an event
Continue using an existing swag vendor in conjunction with Printfection
Self-source "the 1%" of promotional items Printfection can't produce
This feature is available on our Standard and Enterprise plans. Learn more.
Within the Printfection platform, customer-sourced items function the same as Printfection-sourced items. And for most items, you can seamlessly switch back-and-forth between self-sourcing and Printfection-sourcing. You can also return goods (regardless if Printfection sourced them or not) back to your inventory – perfect for decluttering leftover swag after an event!
Start the process by initiating an inventory replenishment within your Printfection account. Watch the video below on how to place a customer-sourced order. Please note: WE CAN NO LONGER RECEIVE CUSTOMER-SOURCED ORDERS WITHOUT A TRACKING NUMBER (see step 6 below).
Step by step written guide below
Initiate the shipment online
Before physically shipping your goods, you must initiate the shipment within your Printfection account. This creates a placeholder in our systems, gives notice to our fulfillment center, and allows us to collect the receiving fee. Rogue shipments will be returned to sender.
1. Click Inventory > Replenish Inventory > + Replenish Inventory

2. Click the Send tab. Name your shipment. Click Start Replenish Order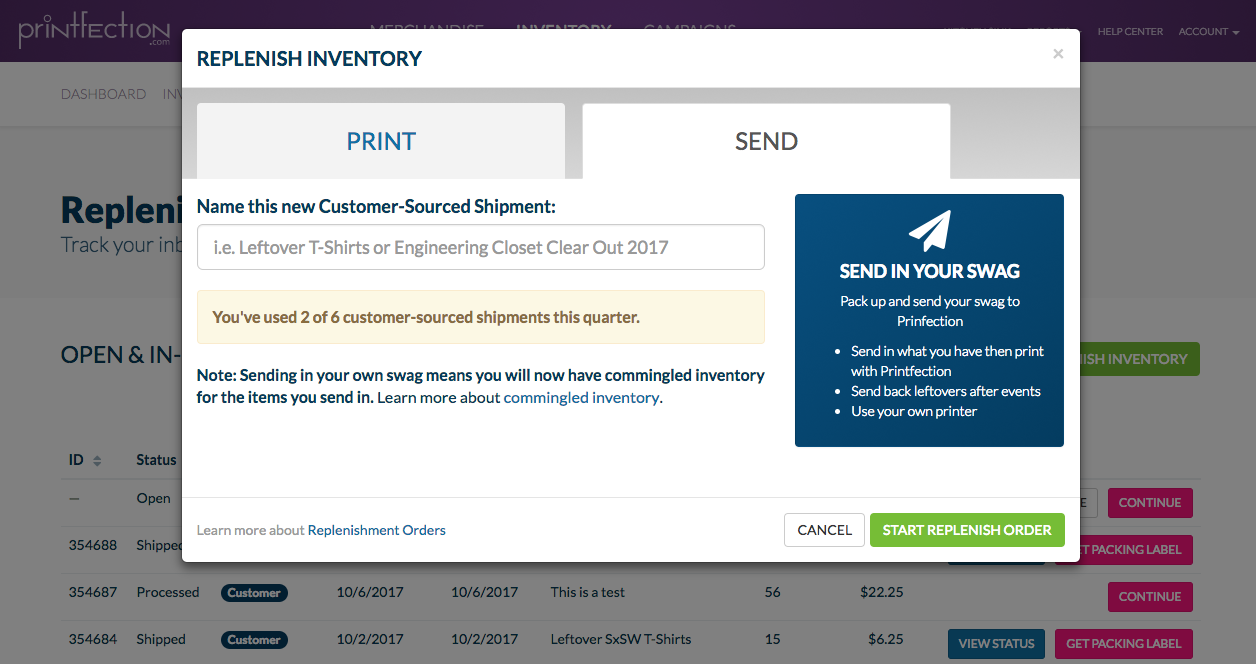 3. Choose the items you'll be shipping to Printfection
Items need to be added to your online account by the Printfection team before you initiate the shipment. If you don't see the item on this page, submit each item via this Google Form so our team can add them to your account.
If our fulfillment center receives "rogue" items that weren't pre-setup on your account it will take significantly longer to receive the shipment and may result in additional fees!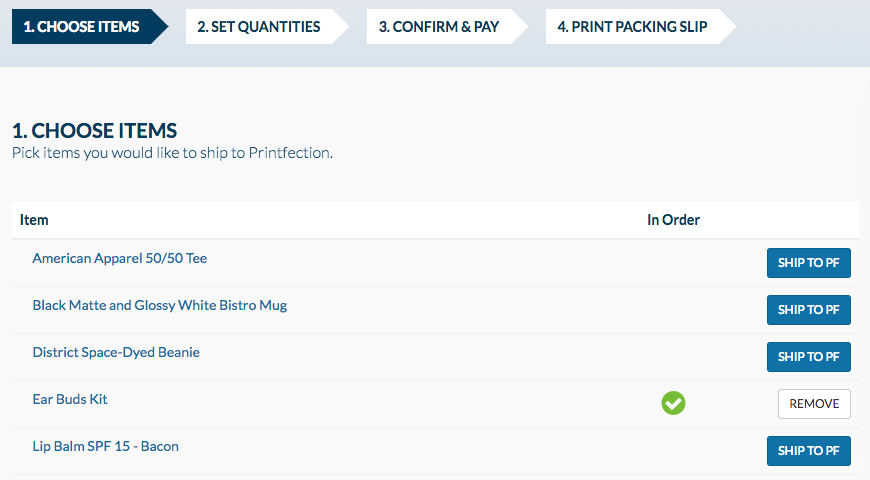 4. Set quantities for each item
If possible, count carefully. We'll recount when items are received and notify you of any discrepancies. If counting isn't practical (for example, shipping directly from a third-party printer) estimated quantities are OK.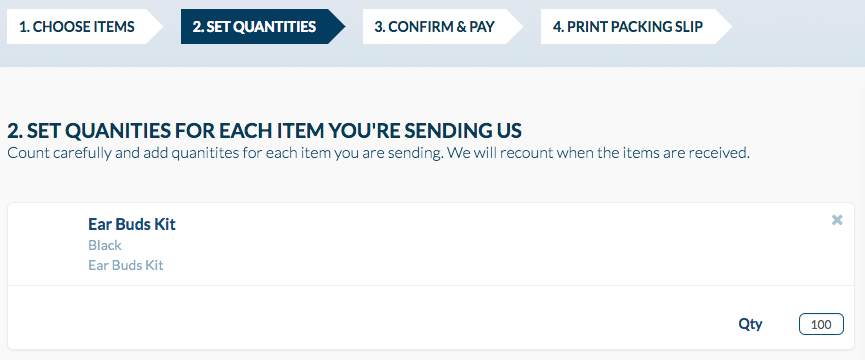 As you're building out the order, click See Cost Estimate on the right-hand side to estimate the receiving fee:

5. Pay the receiving fee
You'll be charged a small receiving fee for Printfection to manage the inbound logistics, count the inventory, and put it away.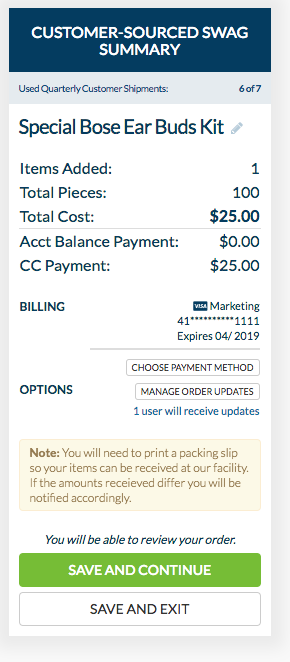 Select a payment method and click the green Save and Continue button to see a final summary of your order: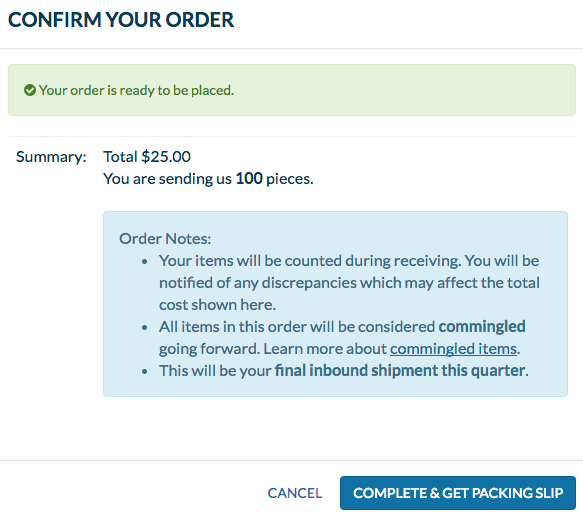 Click Complete & Get Packing Slip to finalize your shipment. Your payment method is authorized for the estimated amount. You'll be charged once the shipment arrives – for the quantity actually received.
6. Tell us about your shipment & print the packing slip(s)
To ensure nothing is lost in transit, tell us how many boxes to expect. We do now require you to provide tracking, please give us the master tracking number so our operations team can ensure your entire shipment arrives successfully and is received without delay. Without the tracking number and box count, we have no visibility and cannot help with inbound logistics.
Click Save & Print Packing Slip to download the .PDF packing slip(s) for each box.
Don't know how many boxes? We use your box count to expedite the receiving process and reduce back-and-forth communication between you, our operations team, and fulfillment center staff (ultimately saving you time). However, if you're shipping from a third-party printer that cannot provide a box count, select 1 box. Once the order is about to ship, contact the third-party printer and update your Printfection account with the exact box count. You can then print a new, updated .PDF packing slip. If your printer cannot estimate the box count, try viewing the tracking information after the order ships - it often contains the box count!

Ship the merchandise to Printfection
You or your third-party printer is responsible for shipping your merchandise to Printfection. If your third-party printer cannot include our packing slips, make sure the order # from the packing slip and your company name is clearly referenced on the shipping label. If we cannot identify the shipment it will be returned to sender at your expense.
Printfection does not take responsibility over your merchandise until it has been marked as "received" within the Printfection app. At no point does Printfection take ownership of your merchandise and is solely responsible for the storage and fulfillment of your merchandise while you're an active Printfection customer.
Receiving fees
You'll be charged a small receiving fee for Printfection to manage the inbound logistics, perform an inventory count, and put away the items. Fees vary depending on item type and weight.
| | | |
| --- | --- | --- |
| Item Type | Example | Receiving Fee |
| Without sizes, under 0.1 pounds | Sticker, Pen, Card | $0.05 each |
| Without sizes, 0.1 pounds or more | Coffee Mug | $0.25 each |
| With sizes | T-Shirt | $0.50 each |
Management fees and storage capacity
Customer-sourced items have the same management and storage fees as Printfection-sourced items. Your subscription plan includes a certain number of active items on your account with additional items billed at $25/ month. Like Printfection-sourced items, you can archive unused customer-sourced items to reduce your active item count.
Customer-sourced inventory is counted against your total storage capacity. Subscription plans include a certain amount of storage capacity which is the sum total of customer-sourced inventory pieces and Printfection-sourced inventory pieces.
Commingled Inventory
Printfection-sourced items are covered by our 100% satisfaction guarantee. However, if you later source the item yourself, we can no longer guarantee the quality of any remaining Printfection-sourced inventory because the customer-sourced inventory is commingled (mixed in), making it impossible to discern who produced what.
Commingled items are identified by a badge:

Frequency limits
Customer-sourced inventory is designed to be supplementary to Printfection-sourced inventory. Having Printfection source and print the majority of your merchandise vastly simplifies swag management. Depending on your subscription plan type, you can send up to ten customer-supplied shipments per calendar quarter.
| | |
| --- | --- |
| Subscription Plan | Shipments Per Calendar Quarter |
| Starter | No customer-sourced inventory |
| Standard | 3 shipments per quarter |
| Enterprise | 10 shipments per quarter |
What's a shipment?
A shipment is defined as:
any number of items
any number of boxes
coming from a single location
via a single shipping carrier
at a single point in time
Single shipment example: Clearing out an onsite swag closet: 100 t-shirts, 100 pens in 2 boxes from one location.
Multiple shipment example: Shipping from a third-party vendor with separate production facilities for t-shirts (California) and pens (New York). 100 t-shirts, 100 pens in 2 boxes from 2 locations.
Are there quantity limits per shipment?
No. You can send as many different items as you'd like and an unlimited quantity of each item.
Disallowed goods
Printfection is first and foremost a promotional products company - not a generic fulfillment service. Due to the nature of our business model and technology platform, customer-provided items must be decorated or customized to resemble a branded promotional item.
Furthermore, we don't accept perishable goods, items with an expiration date, temperature-sensitive items, alcohol, high-value items, or items restricted by our shipping carriers. For more information, see storage and shipping of disallowed goods.
We also do not currently allow most packaging items including packing tape, custom boxes, or poly-bags.
If you're unsure about an item, contact your customer success manager, submit an item research request, or email support@printfection.com.