Overview
Printfection's swag platform lets you easily place Drop Ship orders. I.e. easily send your bulk swag anywhere you want. This article walks you through the steps of placing a Drop Ship order with Printfection.
---
First, the difference between an Inventory Order and a Drop Ship order
When you are ordering products with Printfection there are two options: 
Orders for Inventory — these orders are printed and exclusively shipped to a Printfection Fulfillment Center to be used later with the Printfection platform. If you're looking to do this you may reference the How to Buy Inventory help article.
Orders for Drop Shipment — these orders are shipped directly to a destination you specify. Orders pulled from Inventory can be shipped almost immediately whereas orders that must be printed first take longer.
---
Placing a Drop Ship Order (or Event Order)
Step 1
The fastest way to create a new Drop Ship order is from the Buy or Ship Swag button up top in the navigation. Then select New Drop Ship Order. You will be taken to a page to select an existing Drop Ship campaign or create a new one.

Drop Ship campaigns are basically containers to store orders within so you can easily organize and revisit them. 
Step 2
Once inside the Drop Ship campaign you can start a new order via the text field below:

Step 3
Now that your new order is created you can choose the items you want to send. Click the + Add Another Item button to add more items to your order.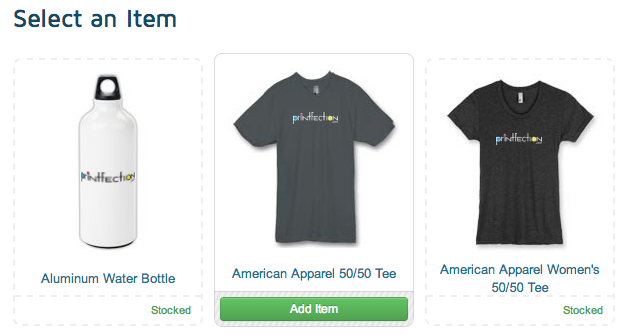 Step 4
Choose the quantities and sizes (if required) that you want for this order.

Note: The small blue number above the quantity box shows how many of that item you have inventory of. If you don't have enough inventory on-hand to fulfill the order, a new print order will be created behind the scenes and we'll ship directly from the printing facility.
Similar to an Inventory Order if we have to print items to fulfill your order, it will extend the lead time.
If everything is pulling from inventory the order will ship within 1 business day.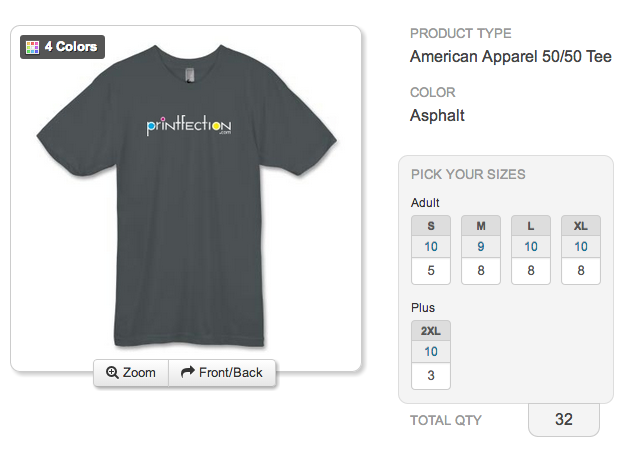 Once finished click Save and your totals will update on the side of the order.
Step 5
Click the Add Your Shipping Address link in the sidebar and add the destination shipping address.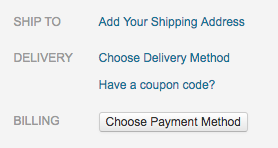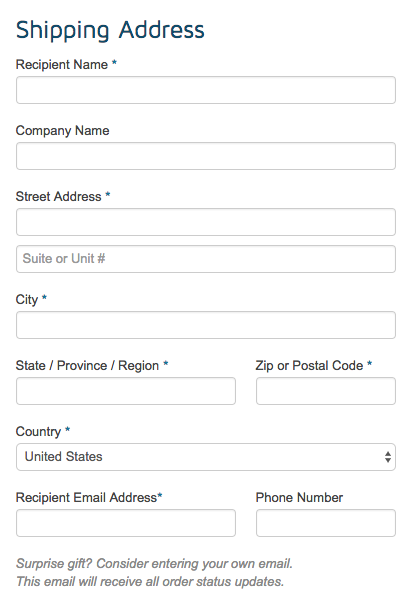 Step 6
Now, click the Choose Delivery Method link in the sidebar and select your Delivery Options. Including if you want Event Packing, where your apparel is rolled and wrapped with a size sticker.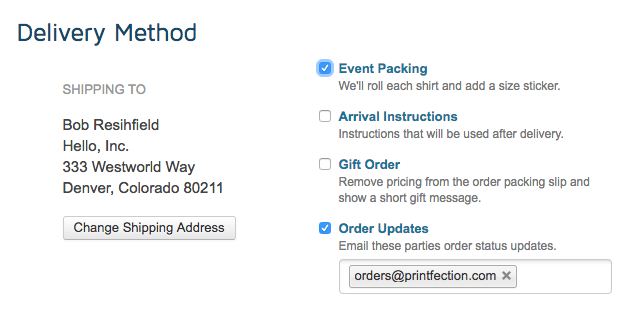 Step 7
Next up, choose the Shipping method, use a Guaranteed date if you want it to arrive at your destination on a specific day.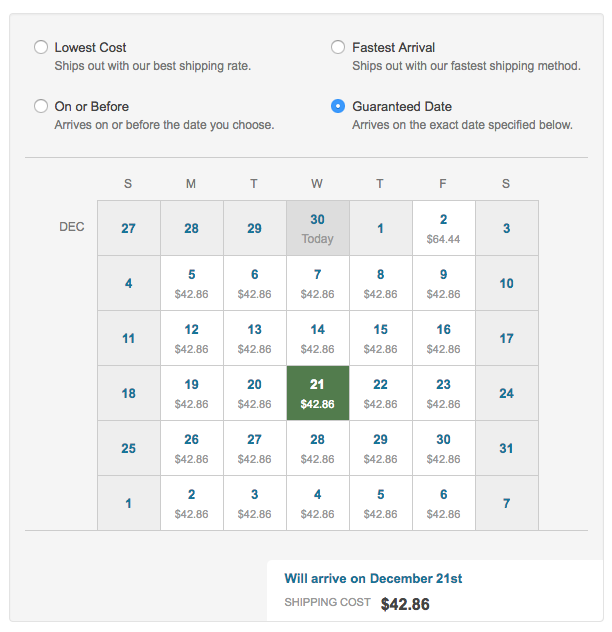 Step 8
Choose your billing method. If an Account Balance is on hand it will be automatically applied — if you don't want this you can uncheck the Use account balance before charging option in the Choose Payment Method window.

Step 9
That's it, you're now set to click Place Order. You will then be given a receipt of your transaction.