The first step to getting merchandise shipped is Item Setup.  This is the process of choosing your items, having your artwork placed on those items, establishing pricing, and making the items available in Printfection for printing. 
This article quickly covers the two processes of Item Setup.
The Printfection catalog
An Item Research Request
---
Using the Printfection catalog
To choose an item out of the Printfection catalog, log in choose Merchandise >> Browse Catalog.
When you locate an item that you'd like to order choose Select this item and fill in the form.
Once your request is submitted we work with you to:
Finalize the item and printing colors
Show you item and printing costs
Review and place your artwork (verify brand standards and sizing guidelines)
Provide you a high-resolution virtual sample for review
Get your final approval before adding the item to your account
Once the above steps are taken the item will be added into your account so it can be printed.
Requesting item research?
Item Research is for those times when you don't know exactly what item you want to order or you would like to order an item that's not in the catalog. 
Printfection can source thousands more items than are shown in the catalog.
We will work with you to help narrow down the type of swag you want. Here are just a few of the things we can help with:
Comparing multiple item types and items
Narrow down items that are popular with a particular audience
Provide detailed pricing and cost-benefit analysis 
Work to provide items in a target price-range
Provide details on minimums and turn-around times
Once everything is ironed out we'll pivot your research project into the Item Setup process described above so items can be added to your account.
To submit an item research request, click on the link beneath the Product Catalog header or on the blue button on the right-hand side of the page (beneath your filtering options).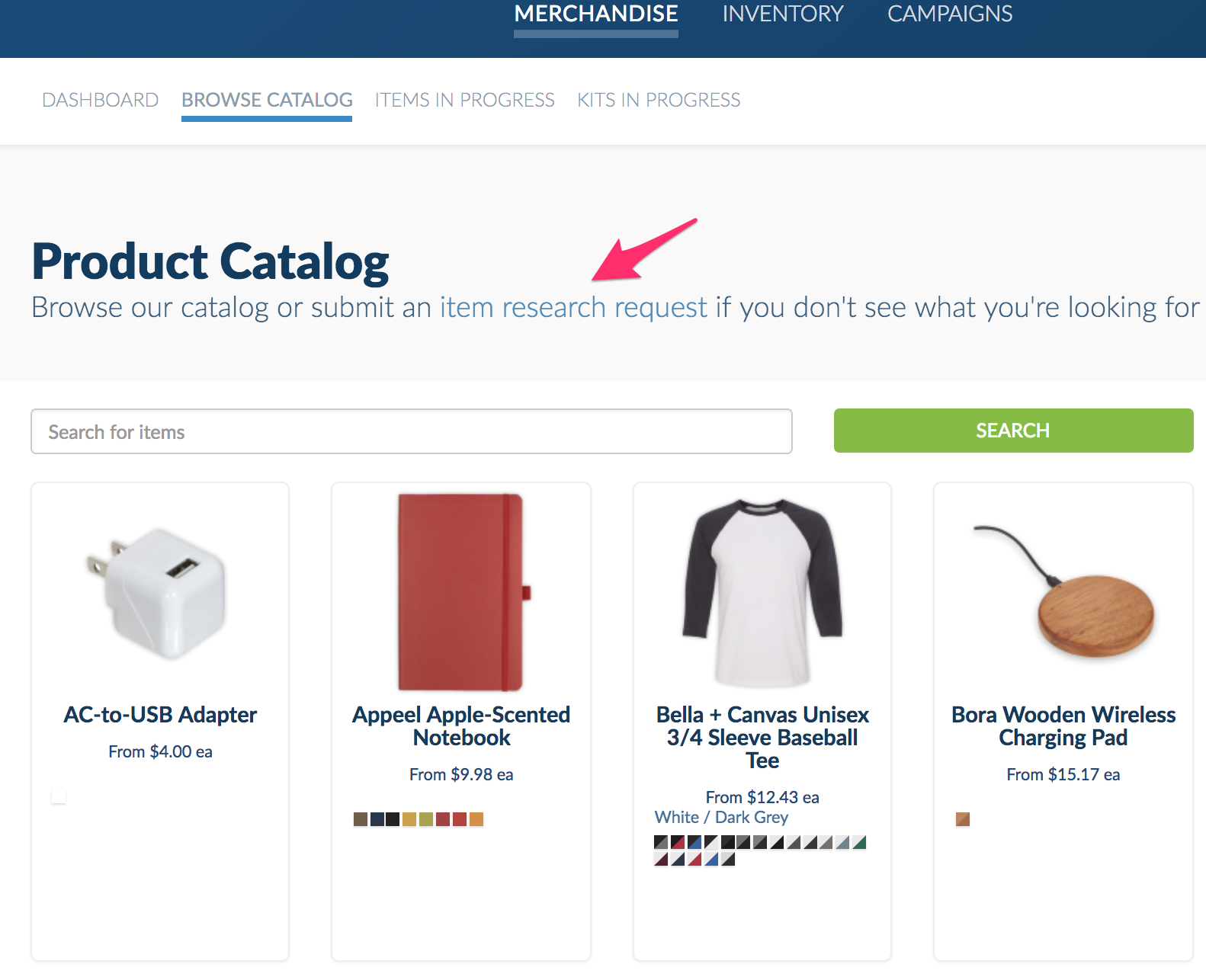 What makes Printfection different? 
High Resolution Virtual Samples
We're happy to provide real 'in-hands' samples if needed. But, our virtual samples are of such a high-resolution that many times you may feel confident to order right away — especially if you're already familar with the product-type you're ordering.
Online Approval Process
We make sure the entire Item Setup & Research process takes place online. Giving you the flexibility to manage it all from within the browser if you choose to.
Order Items Anytime
Unlike many traditional printers that require you to order your items right away, you don't have to do that with Printfection. Instead, you can work to set up items in your account and then order them whenever you are ready. 
Send Us Example Items
Want us to match an item you are already using? No problem, just ship it to us and we'll match it exactly. Then we'll provide you pricing and get it added to your account for approval.