If you're looking to streamline the way your account is charged (instead of dealing with multiple small credit card charges) Printfection has several options. This article covers each option in detail below.
This article will also cover Subscription Invoicing, which is available to all Enterprise and Standard customers.
---
Account balance replenishment (minimize credit card charges)
With Printfection you can specify an Account Balance Replenishment to avoid small credit card charges for your Giveaway Campaign redemptions. To do this, go the the top right navigation menu and choose the Account > Payment Methods page (or just click here). From this page you can select the replenishment level that works the best for your usage.

The way this works is that instead of being charged once a day for Giveaway orders, you will be charged at the incremented level you specify. For instance, you might choose to be charged $500 dollars at a time. Once $500 has been used up you will then be charged another $500 to re-up your account.
Pre-load your Printfection account balance
For many companies it works best to load their Printfection Account with a larger balance they can pull from over time.
Once loaded, this Account Balance can be used for orders, shipping, and fulfillment charges — allowing for easier budgeting and spending. You can load your Printfection account via ACH or Wire Transfer.

Please note: While you can use an account balance for print orders, shipping, and fulfillment charges - for Giveaway and Collection campaigns it will automatically be used as the preferred payment method.

"Use Account Balance" is
unable
to be de-selected within Giveaway and Collection Campaigns.
"Use Account Balance"
can be
de-selected for Drop Shipments.

Setting up ACH or Wire Transfer
To set up ACH or Wire Transfer please contact your customer success manager or billing@printfection.com.
Once payments are received they are applied to your Account Balance within 24 to 48 hours. Any campaign you use have the option to use your account balance or a separate credit card you specify.
Receive invoice statements from Printfection
Printfection offers invoicing for customers on our Standard and Enterprise plans.
How Invoicing Works
Once activated, Invoicing becomes the default payment method on your Printfection account. You will see it displayed on your payment methods page and on all of your campaigns. If you choose, you may still use another payment option.


All charges are collected and sent out twice monthly for payment. Payment is due in 30 days (Net 30 terms).
Invoicing Statements
Invoices are grouped into Statements that are sent twice a month. Each statement is a collection of individual smaller invoices that have been grouped together.
If you prefer to receive all invoices as they are created, that option can be turned on, just ask billing@printfection.com.
Paying your invoice
We accept payment via ACH or Wire Transfer, we do not accept written checks. We will provide you with payment details when we turn on account invoicing.
Adding Invoicing to Your Account
Ask your customer success rep or contact us at support@printfection.com to turn on invoicing.
Exceptions
At this time, we do not support invoicing for receiving fees when sending in merchandise to our fulfillment center.
Subscription invoicing (Standard & Enterprise plans)
To set up subscription invoicing, you must first have Invoicing enabled for your account. As described above, you can ask your CSM or ping Support to get that enabled.
Once enabled, go to Account > Subscription.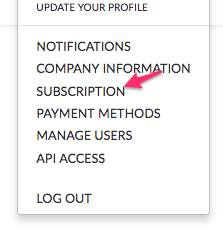 Then click 'Change payment method.'

Select 'Pay by Invoice' and then make sure to hit Save.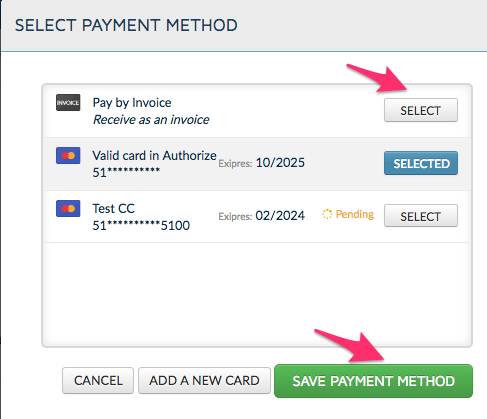 Note: If you have a PO number required under Company Info, you will get a pop up where you will enter your PO number.
If you wish to change your PO number at any time, you may do so on the same screen where you can change your payment method, as seen below.

Any PO number entered here will be printed on the invoice.