Qualified Printfection customers with an invoicing relationship will receive invoices and statements twice per month detailing all of the individual charges made through their Printfection account for the proceeding period.
Statements never contain duplicate charges, so you can treat our statement as an invoice if you prefer not to receive every charge on the statement as a separate invoice. This is the default behavior. Individual invoices can be sent selectively by request, or you can make a request to automatically receive every individual invoice.
If you'd like to treat our invoice as a statement, simply enter our statement number as the invoice number in your accounting system. We will be able to apply your payment to all individual line-items on the statement without issue.
Timing of invoices and statements
Statements are sent twice per month for the following periods:
1st through the 15th of the month
16th through end of the month
You'll receive the invoices and statements a few business days after the close of the period. For example, around the 17th of the month for the statement detailing charges for the 1st through the 15th of the month, and the 2nd of the month for the statement detailing charges for the 16th through end of month.
Example invoice statement
Statements look like this (Download Example as PDF at the bottom of this page):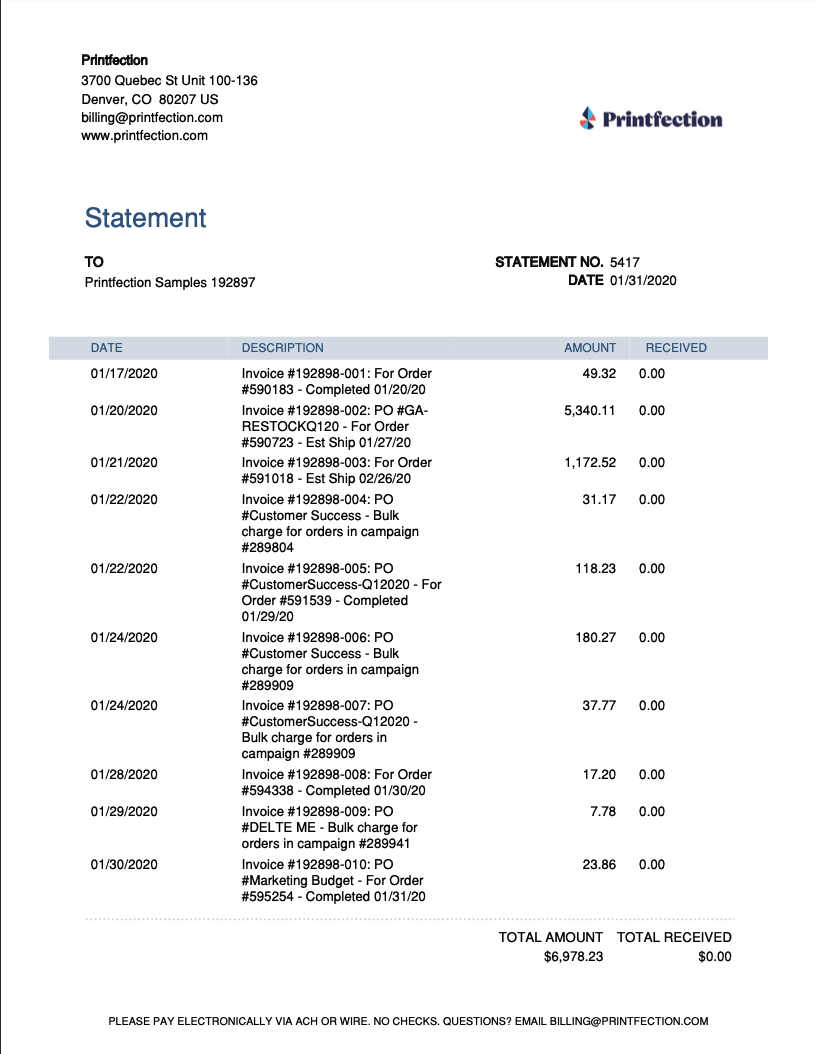 As you can see, every Printfection Order (the actions you take through our web based platform) generates its own Invoice number, and is a line-item on the statement. Invoices (Orders) also show the date the order completed, and if the order is still in-production the estimated ship date. This is helpful to book orders into the proper accounting period on your end.
There are a few special types of line-items you may or may not see on your statement:
If you are running any

collection campaigns

(for example, a Salesforce integration, Shopify store, etc) you will see a line item:

Bulk charge for import orders in campaign #28

(where 28 is the ID number of the campaign. This ID number never changes.)

This charge is for the shipping & fulfillment costs when you go into your collection campaign and release the pending orders to be fulfilled. At this point we charge you for the shipping & fulfillment for all the orders you released to fulfillment and group the charges together as one line-item. If you are running multiple collection campaigns, they will be itemized separately on the invoice, so you can bill separate campaigns to separate departments/ cost centers on your end. Your users can setup as many collection campaigns as needed to keep the billing separate.

If you are running any

giveaway campaigns

(for example, sending one-time-use URLs out to let people redeem free swag) when the recipient redeems their free item, we need to charge you for shipping & fulfillment. This shows up as

Bulk charge for giveaway redemptions

. Unlike collection campaigns, this charge is not currently itemized separately by giveaway campaign. If you are running three different giveaway campaigns, all of the shipping & fulfillment for all three giveaway campaigns will be lumped together in this line-item. It is possible to use our reporting system to break apart the charges by actual giveaway campaign, however you or your primary Printfection admin user would need to do this via our web app.

When you order

Inventory

it shows up just like a normal order. Each separate inventory order will show separately on the statement.
Please contact your sales rep, customer success rep, or billing@printfection.com with any additional questions or feedback.