Overview 
Personalized note cards are a great way to add a nice touch to your orders within Drop Ship, Giveaway, and Collections campaigns.  
Printfection now lets you print high-quality, personalized note cards with customized gift messages. 
Personalized note cards cost $0.50 per each individual order, so if you place 50 orders with gift messaging, your total cost for the gift cards will be $25.
What does a personalized note card look like? 
The front of the card will feature black ink text, in a font that appears handwritten, against a white background. 
The back of the card can be branded with your company name or your logo/ image of choice. We support color printing on the back of the note card.
Note: The cards are white, both front and back, so you will need to use a non-white logo image for the back of the card for it to turn out properly. 
You can edit the back of your card from the Settings page of your campaign.
Simply upload your logo/image and it will appear on both the back of the card as well as on the packing slip.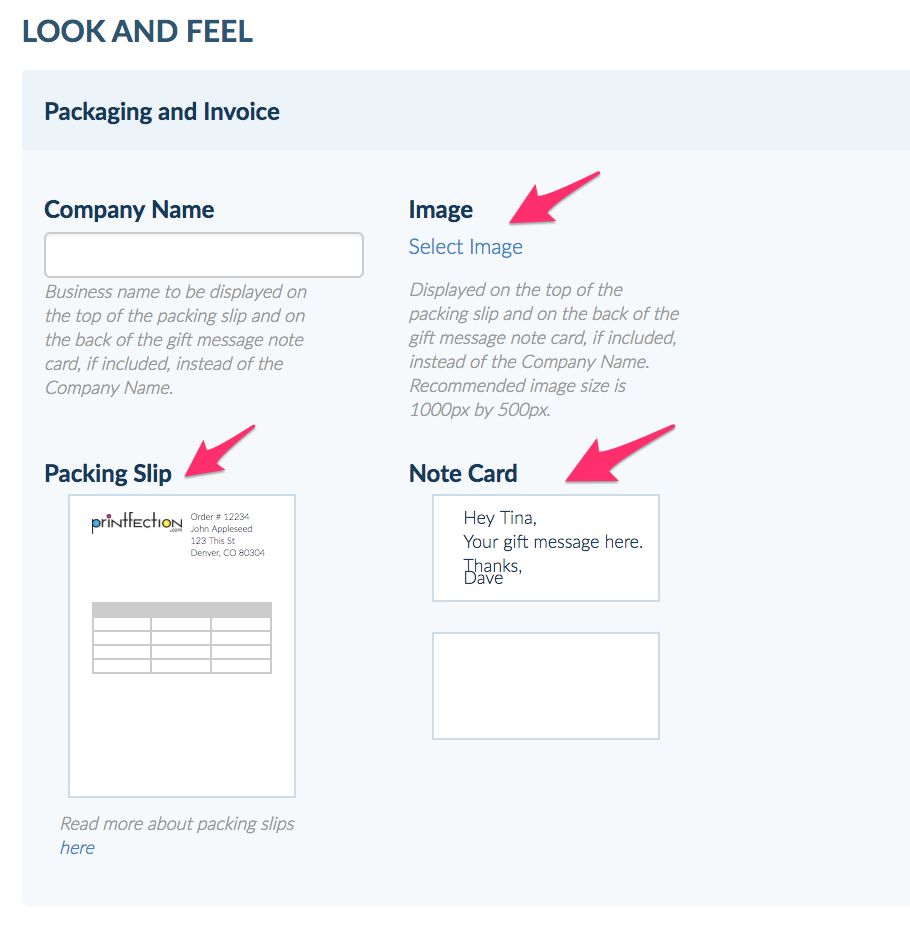 We use thick, high-quality Lynx 80# stock for the cards, and the dimensions are 3x5 (inches). 
How to add a personalized note card to an order
Adding a note card is simple.
When editing an existing order or creating a new one, go to the Delivery Method page in Drop Ship orders or edit the gift message under the address in Collection orders.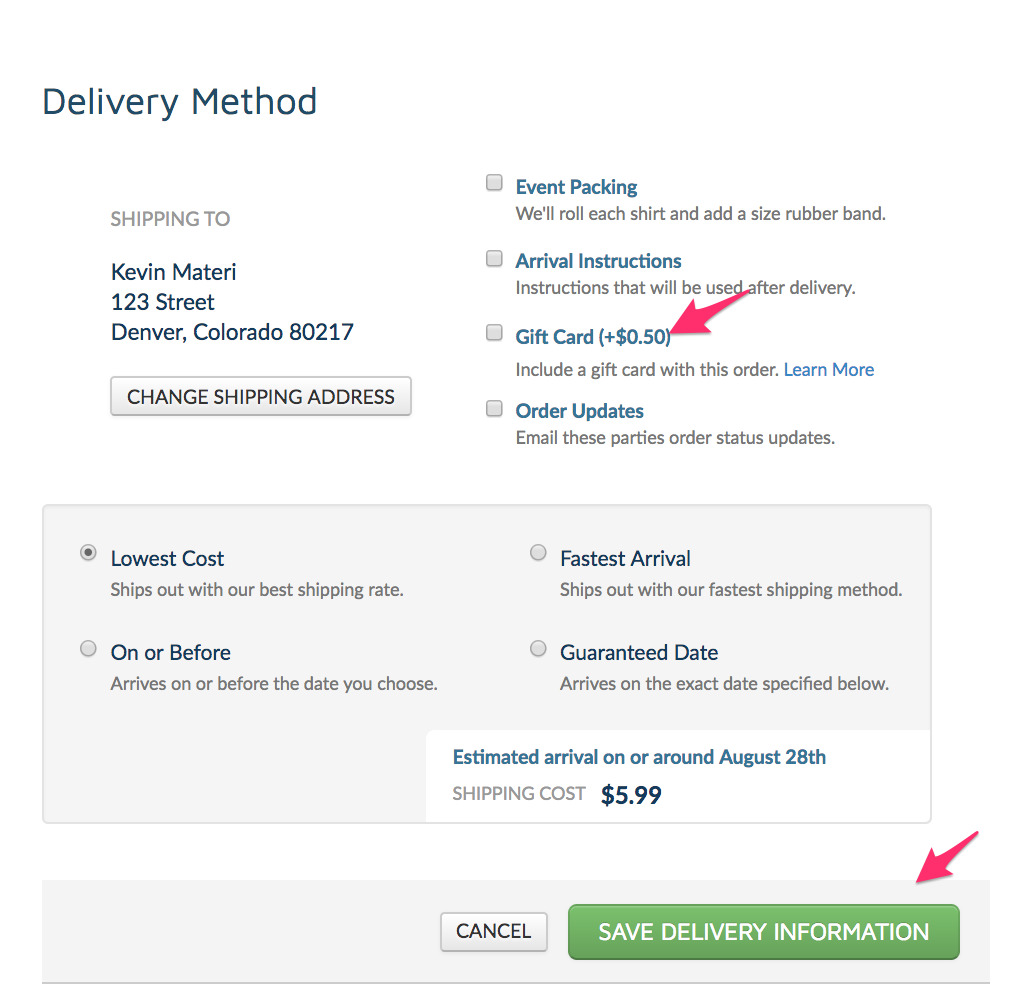 When editing you'll see a preview your message and what the back of the card will look like.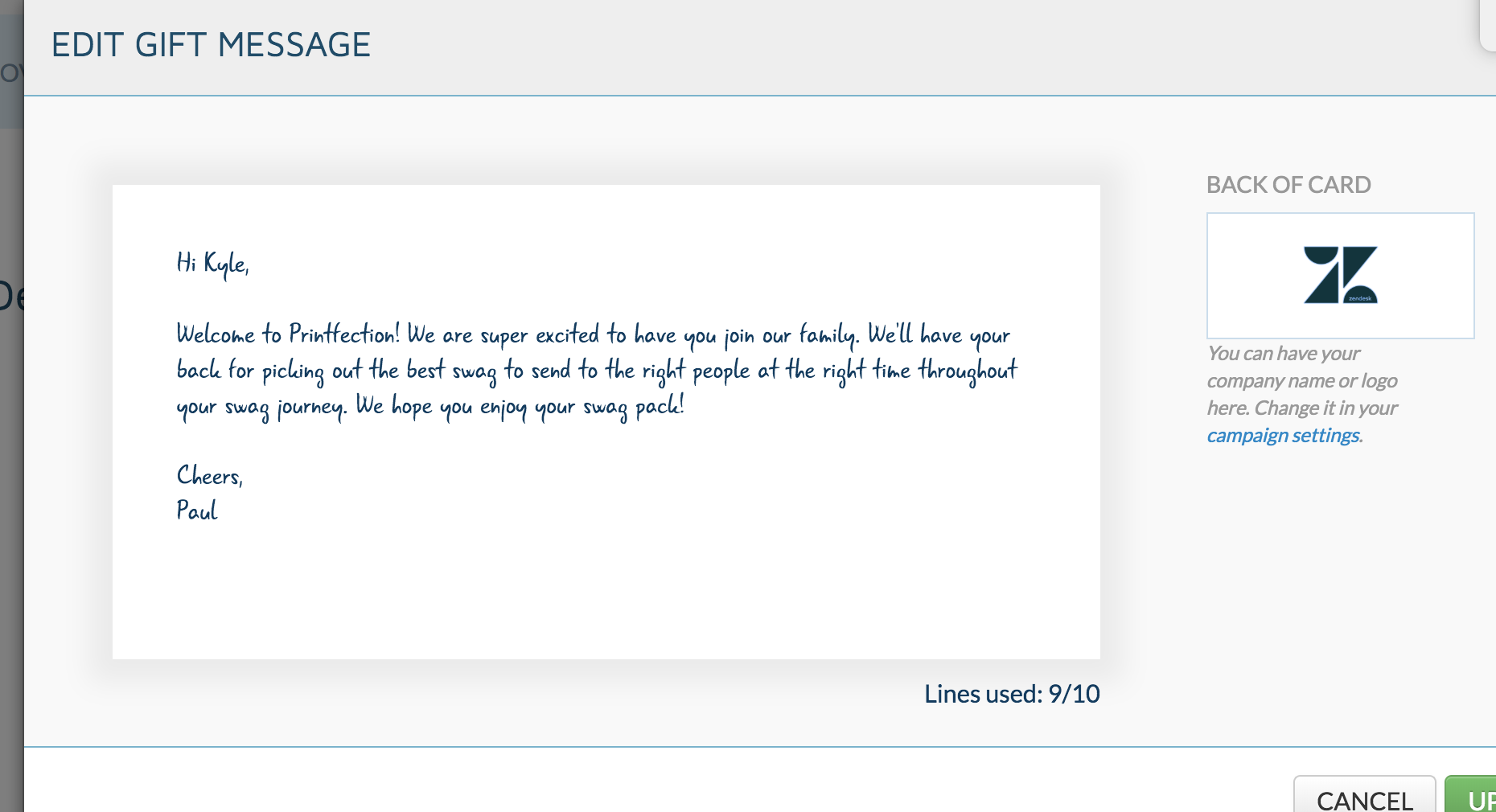 When you are satisfied with your message, click Update then save you order.
Make sure to always hit 'Save Delivery Information' in Drop Ship orders, and 'Save Order' in Collections once you've edited your gift message! 
For Giveaways, since your recipients enter their own information, you can create a template-based message that will pull in the variables they entered.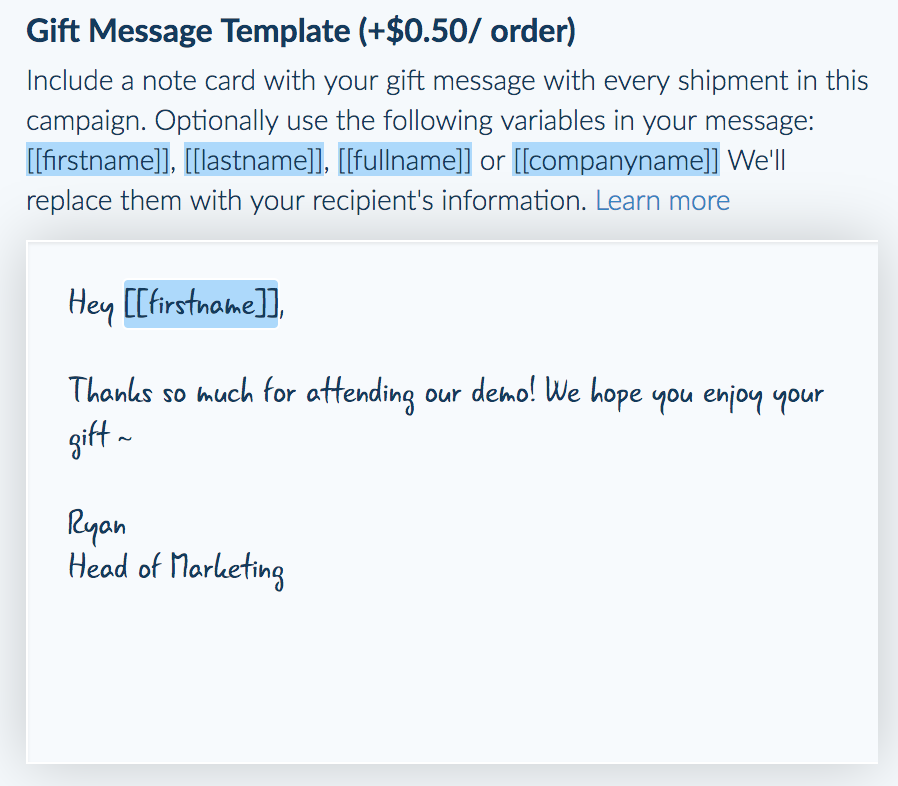 To use a variable, just type it out as shown above using double brackets. When done correctly, the variable will become highlighted. 
Please note, the [[last name]] variable will be empty if someone chooses not to enter a last name when they redeem a Giveaway. 
Also, if the user chooses not a submit a company name, the [[companyname]] variable will be replaced with 'your company', in lower case. 
If you do NOT want to include a personalized note card, simply leave this field blank on your campaign's settings page. 
How this changes gift messaging
In the past, you could include a gift message to appear directly on the packing slip. However, this option has been depreciated and is no longer available in favor of note cards.