Our Kitting feature allows you to bundle items you want to ship together into kits. They can be customized in a variety of ways to provide a more premium experience to your recipients.
Customize the outside and inside of your kit with branding, messages, and a variety of filler and insert options.
View and download our guide to custom kitting & packaging.
What is a kit?
A kit is a grouping of items that can be sent in a custom or standard box with your design.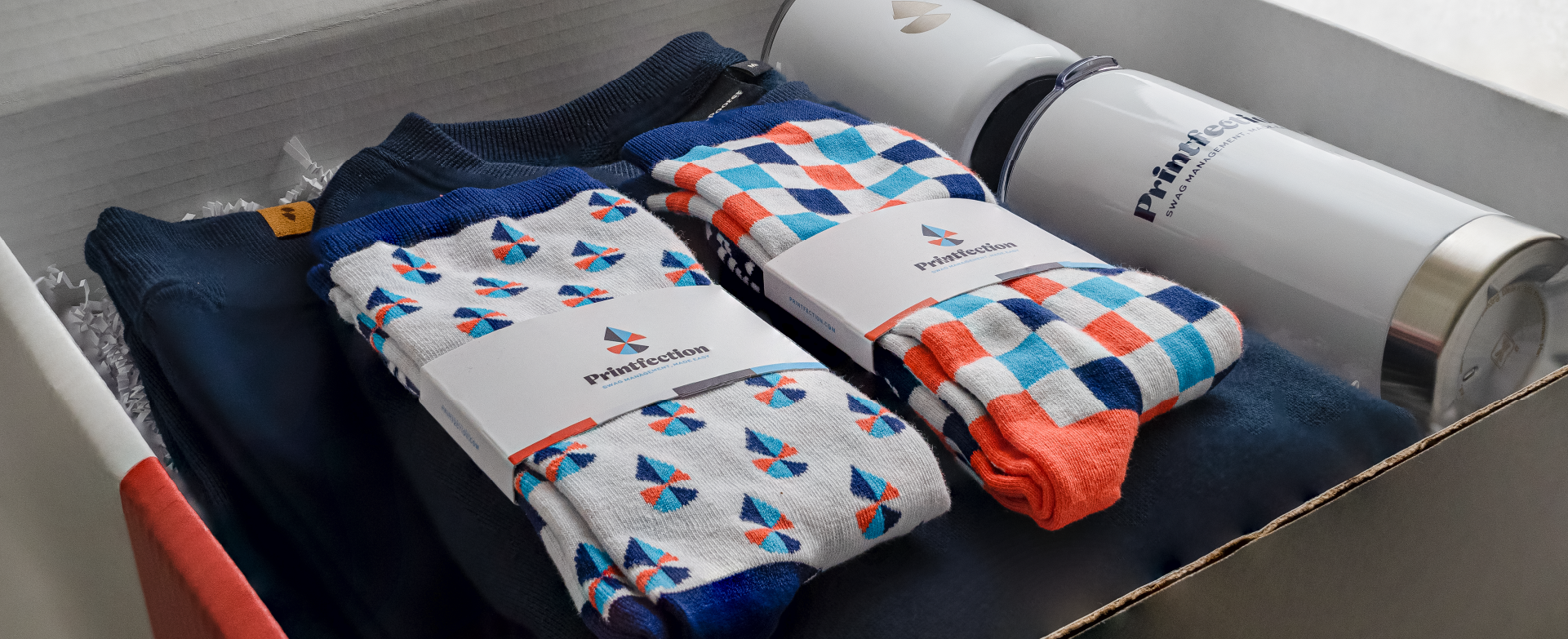 For example, if you wanted to surprise a customer with a t-shirt, socks, and two mugs, you could bundle those items together and put them in a beautiful box you with your artwork. The kit would ship out as one unit - and makes for a perfect surprise!
Packaging types
There are two main types of packaging you can choose for your kit:
Standard Packaging: A

standard brown box or polybag. This has no extra cost and is the same shipping material that Printfection already sends to your customers. There is no design process necessary for a Standard Packaged kit - just group your items into the kit and choose Standard Packaging.




Custom Designed Box: G

ives you creative freedom and allows your brand to be on the outside of the box. Custom kits are shipped with upgraded gift filler or an optional custom-designed insert. The Merchandise Team will work with you to design the box and ensure that your items fit inside.
How to use kits
Currently, kits are fully supported in Giveaway Campaigns and partially supported in Collection Campaigns. Either kits or items can be added to orders from both of these campaigns.

How much do kits cost?
The cost of your kit depends on the items you choose and the size of the box required to fit the items, as well as the cost of the insert you choose. The Merchandise team can help determine what your costs will be. There is no additional cost for the kit other than the normal cost to fulfill and ship those items. Kits are not considered an item and do not increase your monthly subscription cost.
How to get started
To create a kit, check out this article.
It'll cover all the things you'll need to get started, like determining which items (and what quantities) you want to include, as well as submitting your artwork for any custom packaging and/or inserts.
Once we have this information, we'll start producing samples for your review.
Check the status of your kits
If you click on the Merchandise tab in the app, you will see a header for Kits in Progress, so you can view the status of your kit.
Proofs will be sent to you for approval for any custom boxes and inserts you want, and once approved, you will be notified when your kit is ready for use.
Once your kit is ready, click on Merchandise and then Dashboard.
Down below, you will see a tab next to Items called Kits.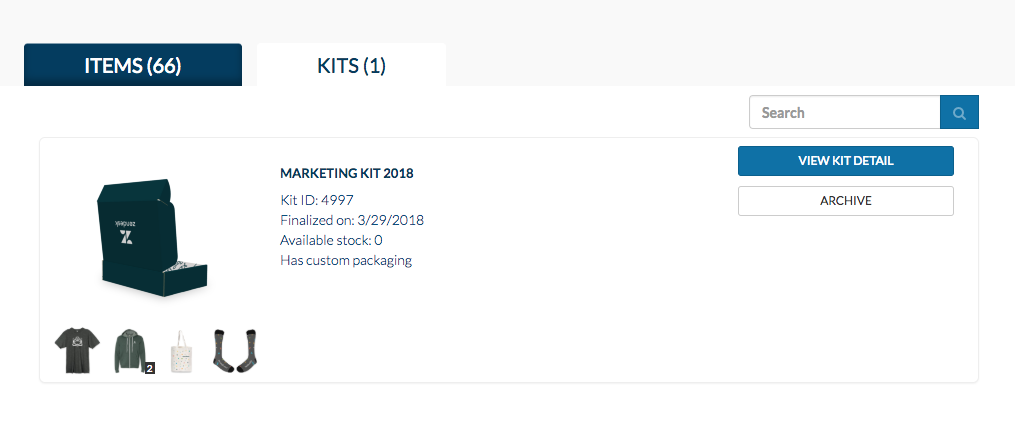 You can view the details of your kit, including the type of box and insert used, and items and quantities, as well as what Giveaway campaigns are using the kit.
Determining kit inventory
The number of kits you have available for use is based on the lowest quantity of individual items you have in stock.
For example, let's say your kit contains 1 hoodie, 10 t-shirts, and 5 pairs of socks.
If your total inventory for all your various campaigns is 100 hoodies, 100 t-shirts, and 100 pairs of socks, you could only send 10 kits, since each kit contains 10 t-shirts and this would deplete all 100.
As another example, if you were completely out of hoodies, you would see that you have 0 kits available (since a kit must include a hoodie in this example).
Please also keep in mind that any other campaigns using the same items in your kit will impact your kit inventory.
For example, if you had 10 hoodies in stock but used 2 in a separate campaign, you would now only have 8 hoodies to use for your kits, and you would see 8 kits available (assuming you had the sufficient number of t-shirts and socks).
How many kits can I send?
You can only send one kit per order to your recipients. You cannot send multiple kits to a single individual in the same order.
Kit turnaround times
If all your items are already configured in your account setting up a kit only takes a day or two. If you are setting up new items, including a custom box or insert, it can takes between 8-10 weeks to get your kit ready for use due to printing times.
If you have any questions, please reach out the Merchandise team or email support@printfection.com!